Wizard Price Guide : Oz books Collectors Price Guide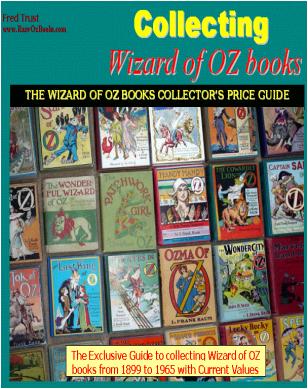 Do you want to start an Oz books collection? Already own Oz books and want to know what they are worth?
This Price guide has up-to-date prices on almost all collectible Wizard of Oz series books and serves as the most useful tool whether you are interested in buying or selling!
The Guide covers the prices of all Famous Forty Oz books from first to later editions covering over 160 different variations of the same 40 Oz titles.
It not only provides the range of prices depending on the book grading level (Fine, Very Good, Good, Fair and Poor), but also includes in the easy-to-follow table format photos of the front covers, bullets related to each title, position of color plates, edition, and printing years.
I also provided the Table of Contents with the link to quick navigation to specific title. In other words, you have in one concise snapshot everything you need to determine the value of any Oz book you are interested in!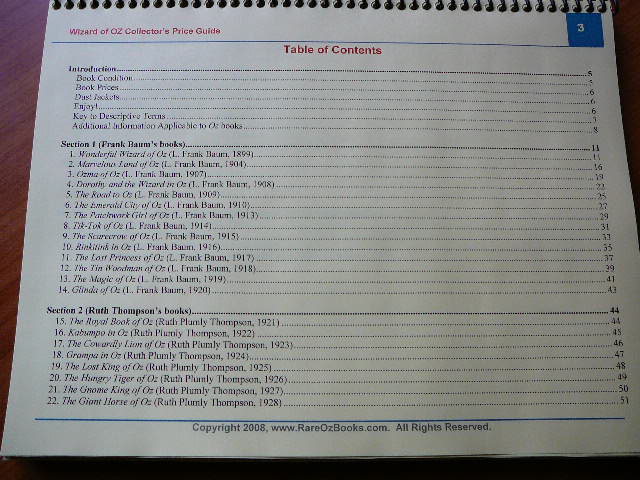 In the image below you can see the details of the sample page from the Price Guide.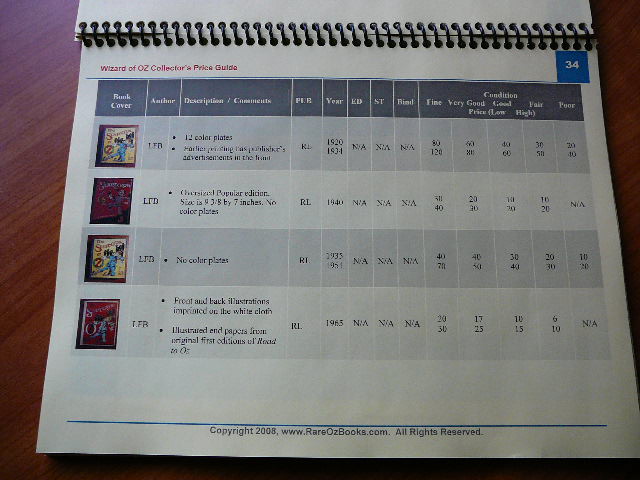 The Oz books series is one of the most complex ones to analyze for the correctness of edition and pricing. I have strived to provide enough information, including photos, that will help with such identifications. Below are some examples of various advertisement sections, different variations of publisher's name on the spine and photos of 16- and 32-page gatherings.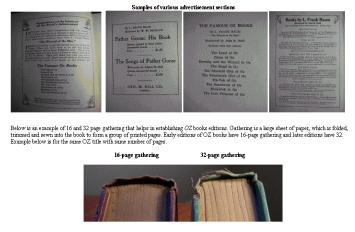 Many people are overpaying hundreds of dollars for Oz books, mainly due to the lack of a price guide and absence of identification of true printing years in almost all Oz books. Most of them only have the original copyright year, and do not list subsequent printings or editions.
I provided my own prices based on my exclusive dealings with numerous Oz books. Over the years, I have purchased and sold over 2,000 Oz books from various sources. Discrepancies in prices that I encountered are so dramatic that I am asked on a daily basis to give my opinion regarding individual Oz books to folks who contact me through my website.
I wrote this Guide as an E-book, but it is also available as a beautiful color soft cover copy. Both editions are kept up-to-date and will be constantly updated with current prices.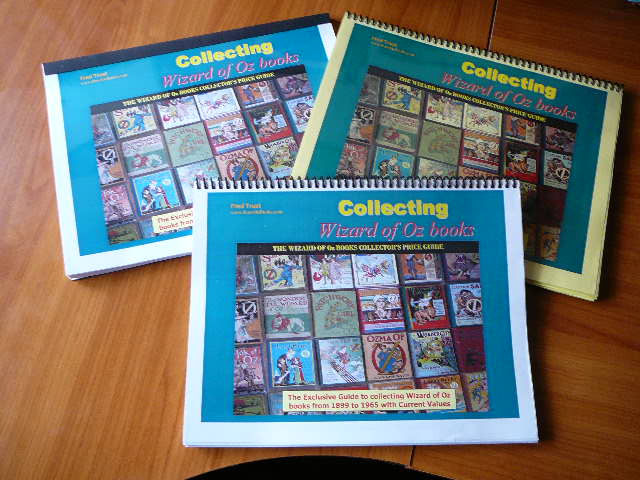 What exactly is an E-book? An E-book is an electronic version of a printed book. This particular E-book is in PDF format, so you will need Adobe Acrobat Reader to view the file. If you do not have Adobe Acrobat Reader you may download it free of charge at www.adobe.com. You can also print this book on your printer or bring it to a print shop to print and bind (see example above).
This Guide is a digital download - You will be able to download your guide INSTANTLY following PayPal payment where you can also use Visa and Mastercard.
How to purchase

Digital download price of this guide is $19.99. The easiest way to obtain this Guide instantly is through PayPal. Even if you don't have a PayPal account you can use your credit card or bank account.
Purchase digital Guide e-book



If another payment type is desired, then please use Contact Form.
Soft cover color copies are also available. They are priced at $45 to cover costs of color printing, binding and priority shipping anywhere in US. Outside of the US the price is $50 ( please contact me first).
Purchase Softcover Guide

Below are a few replies I received from Oz books' fans who used this Guide

Fred... this is NICELY done. I could maybe do a little to improve it, but it's not necessary. You're GOOD!!!! Wow! I'm quite impressed!!!
I read through your price guide and found it to be FANTASTIC. What great work!! You've truely done a marvelous job with a complex group of materials.
A beautiful piece of work and sincerely impressive and very thorough.
I just wanted to tell you that I got the soft cover book price guide today in the mail. I LOVE it!!! I can see already that one book I'm watching is way overpriced by a couple of hundred dollars! Another book I just bought, ;-( goes over the suggested price range by about $60--so that didn't hurt quite so much.
In the latest issue of The Baum Buggle magazine celebrating the 50th year of existence of the International Wizard of Oz Club, there is the article "Hot of the Press" dedicated to the Wizard of Oz Price Guide that I created. This is what it said: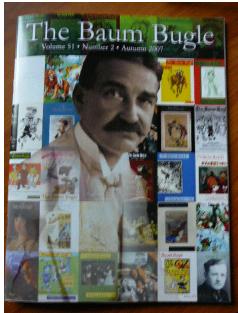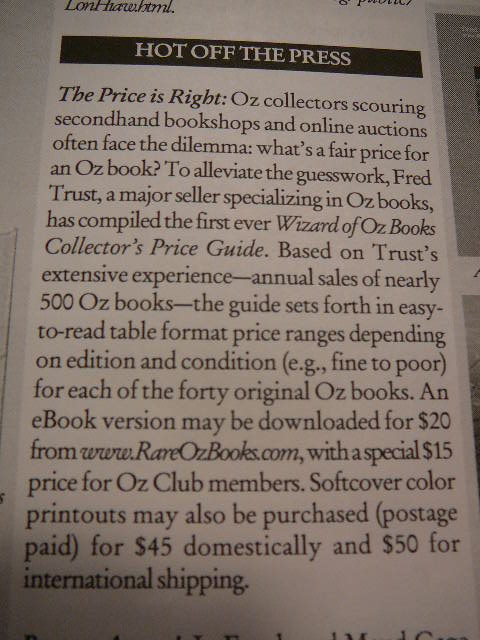 Please feel free to contact me with any questions or comments.

Not convinced ? Try to analyze past Oz books sales below or
watch a two- minute- video of different versions of the same title !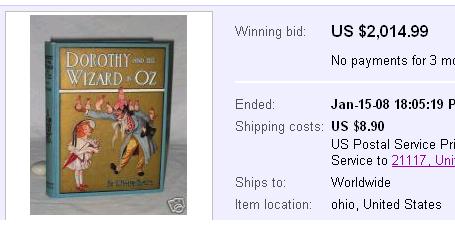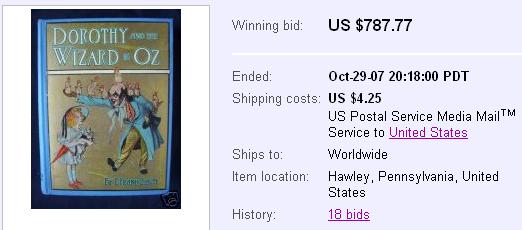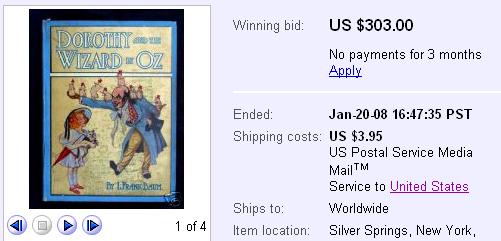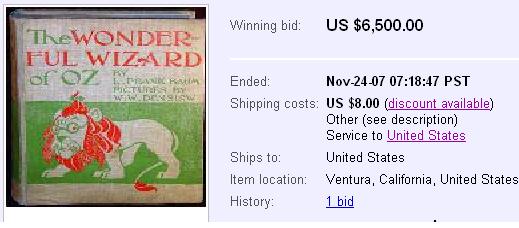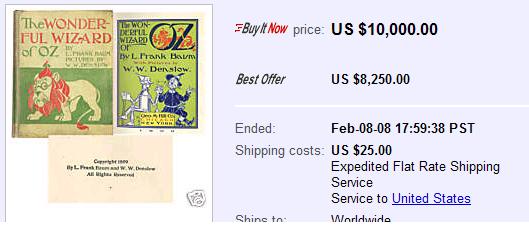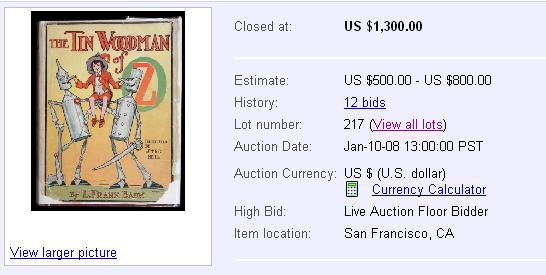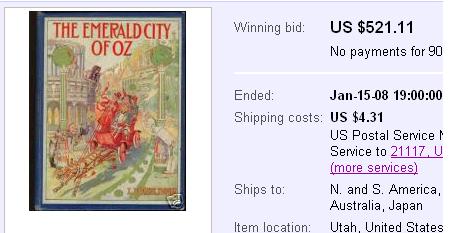 This Guide will pay for itself after the first purchase!


Lastly, below is the example of the January, 2008 sale of $50 book for $3500 on ebay.

Below is partial seller description
The Scarecrow of Oz, contains 288 pages, copyright July 16th, 1915, Illustrated by John R. Neill and published by The Reilly & Lee Company, Chicago. It is autographed by Roger S. Baum, great-grandson of L. Frank Baum, the original creator of The Wizard of Oz series. (Roger S. Baum is the author of many continuing Wizard of Oz books) This story is the personal favorite of L. Frank Baum.This is a magnificent treasure and in good condition for being 93 years old. ...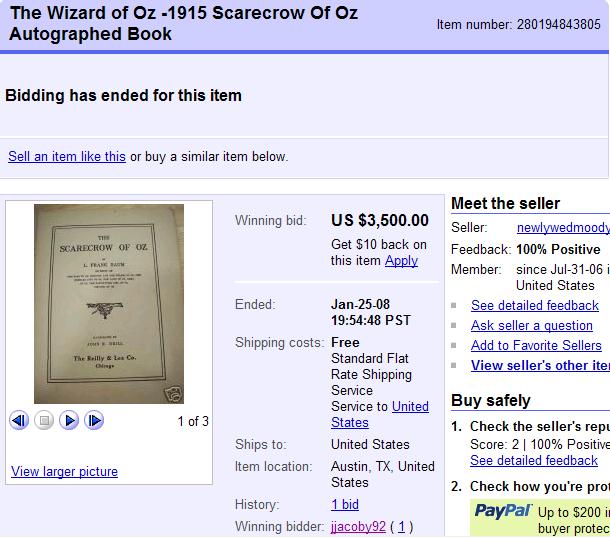 Some Oz collectors were trying to correct the seller with his advertising, pointing to him to a proper edition and value. Below is the seller reply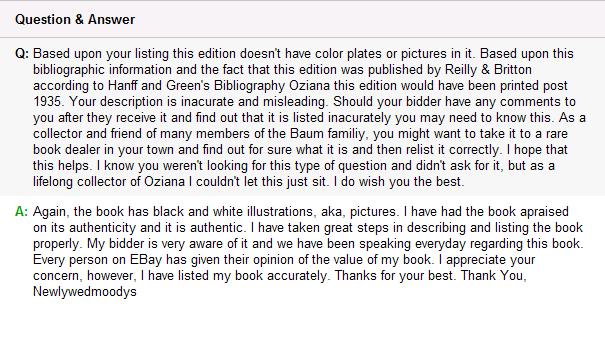 I was trying to follow up with feedback on ebay for this purchase. Below is the buyers feedback to the seller
Great Purchase !!!! I received book 2 days ago, had it appraised it was worth it

Below is my take on this purchase
Book by itself beeing is in fair condition worth under $20. Main question is what a Roger Baum ( great grandson of Frank Baum) signature worth ? I have seen in many places books selling that were signed by Roger under $50. Below are a few examples
From http://www.bookstallsf.com/ozbooks.html website
74. Baum, Roger S. THE SILLY OZBUL OF OZ & TOTO. Color illustrated by Lisa Mertins. Yellow Brick Road Publishers, (1992) 1st ed.2nd printing (2). Picture book format, red cloth, 32 pages. Near Fine in original un-clipped jacket. Large signature & inscription by Roger Baum. $55.00 Roger Baum is the Great Grandson of L. Frank Baum.
Another example where I found book written by Roger " Dorothy of OZ" signed by him selling for $9.95
From website
http://browse.barnesandnoble.com/used/ProductMatches.asp?z=y&SGN=Y&PEAN=9780688078485
Below is a description
Like NewSigned by AuthorDust Jacket
Seller Comments:Elizabeth Miles NY 1989 Hard Cover 8th Print Fine in Fine jacket 9 1/2" Signed by Author NOT an ex library book. Long inscription signed by Roger Baum with a Toto, Too stamp. 166 clean interior pages. Dust jacket has no chips or tears, price is not..
My conclusion: Based on 2 examples above Roger Baum signature is not even worth $10, since you can get a hardcover book in DJ with his signature for $9.95. So to me there are 4 ealry stage Scarecrows ( no brains, since eventually in later OZ books Scarecrow end up being smart) in this transaction.
1st appraiser, who appraised this book for $5000, 2nd is the seller who paid probably over $100 for appraising a book. 3rd is buyer who ignored every message and purchase a book and 4th is appraiser that a new buyer used that have no clue about OZ books values.
Don't be a victim, do yourself a favor and purchase a guide !

---

Return from this Wizard Price Guide page to Wizard of Oz books home page