Frank Baum bookplate
Of particular interest are the ephemera found in books. Beyond the occasional hidden cash that surfaces from time to time, it is always a thrill to discover an item long buried inside a book that may turn out to be worth more than the book itself.
Small items of ephemera such as photographs, religious cards, tickets and postcards often owe their very survival to their secondary use as a bookmark.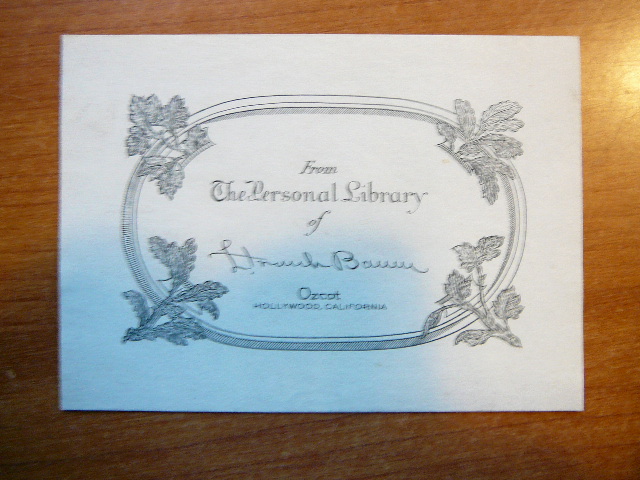 Bookplates are the pasted-on labels used to denote ownership of a book. Commonly found affixed to an endpaper and sometimes designed by famous artists, bookplates have been in usage since the 15th century.
The words "ex-libris" (Latin, meaning "from the books of") frequently appear on bookplates, and the two terms are often used synonymously.
The bookplate's collecting derives either from its association with the original owner of the book or, as is often the case with found bookplates, from its attractiveness as a miniature work of art. The owner's name is often engraved on the bookplate or incorporated into the design.
There are many collectors of bookplates who search for interesting examples to add to their collections. Collecting bookplates began in the late 19th century, when book collectors exchanged their private bookplates with each other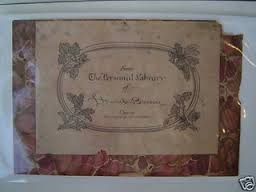 It became clear even in the 19th century that the value of some historical bookplates outweighed the value of the books into which they had been pasted.
If a book has value on its own or was once part of a famous person's library, the bookplate should stay attached to the book. If, however, you encounter a beautiful bookplate in a damaged or worthless book, it may be worthwhile to salvage it. Attractive and skillfully designed bookplates will sometimes be found in books which, in and of themselves, have little market value.
I recently had an opportunity to obtain a few bookplates. Below is the seller response to why bookplates were so clean and in mint condition.
Seller purchased them from a Baum auction in California back in the 1960s when he acted as an agent for Justin Schiller at the sale - he is a Baum expert and friend. It is quite genuine. The reason it looks clean is because it was never pasted into a book. Don't you realize that people with their own personal bookplate design may have some pasted into books and others that might have not yet made it into a book? These Baum plates is never made it into a book! I also purchased at the same sale a set of books (not Oz) that HAD the ozcot bookplates pasted into the books and I have not attempted to remove them from the endpaper nor have I put them up for sale. Also, the bookplate is printed on very distinctive watermarked paper of the period.
Please contact me if interested to learn more about Frank Baum bookplates.
---


Return from this Frank Baum bookplate page to Wizard of Oz books home page